FAQ
Find all the answers about your questions here!
What is Yumbo?
WHAT IS Yumbo?
Yumbo is an online vintage pixel-art style virtual community where you can create your own avatar, make friends, chat, build rooms, design + play games and so much more! Almost anything is possible in this strange place full of awesome people…
MORE THAN JUST A GAME…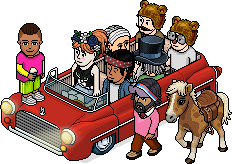 Styling your avatar in the most on-trend styles isn't the only way to have fun in Yumbo. Want to be the architect of the century and build dazzling structures? Builders Club is for you! Want to show off your crazy game building skills and stump your friends? Join our competitions! Are you crazy about selfies and funny pics? Our Camera feature is endless fun!
FIND YOUR COMMUNITY
Do you love to chat and hang out with friends? Yumbo Groups, forums and Roleplaying communities are a great place to start. Join the army and suit up for duty, don your cape and save the universe, wear Yumbo Couture as you strut down the runway, become a nurse and save pixel lives. Join in and start exploring the endless role-playing possibilities!
EXPRESS YOURSELF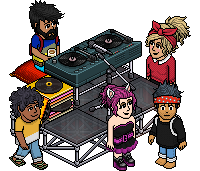 Creativity and individuality are welcomed in Yumbo! Every week we have tons of awesome competitions for you to enter. From room building to Selfies, to pixel art videos and short story comps - there are tons of cool things to get your artistic juices flowing and win awesome achievements + prizes! Feeling creative? Check out our news to find out about fun weekly competitions!
PLAY FREE, FOREVER.
Yumbo is a free to play game, so you can explore a vast world of rooms, complete quests, chat and win prizes without ever having to pay a thing!
Some in-game 'extras' like Habbo Club membership, Builders Club membership and furniture can be purchased with Habbo Credits. For more info about in-game extras, head to the YumboShop.
ALWAYS HERE TO HELP…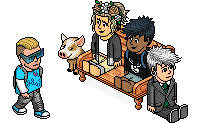 The Hotel is moderated 24 hours a day, seven days a week. You can also do a lot to make sure you stay safe on Yumbo and on the internet.
As a popular online virtual world we are proud to have great in-depth knowledge of online safety, following international guidelines set out by government groups and teen organisations.